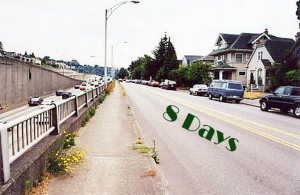 One more pace run (10 miles @marathon pace -20 seconds per mile) tomorrow morning, and then some miles in the week to pretty much keep me from going nuts, and then it's game on, 26.2 miles at the Seattle Marathon.
Thank you all who have donated to the Conservation Lands Foundation in honor of my run (I just this afternoon took the lead on my team!) What's that you say? You haven't donated yet? Please donate online today.
Goal
Goal finishing time: 3:30:00. That means, my magic time to keep mile after mile is a nice, even (and undoubtedly painful starting around mile 18…) 8:00 per mile.
As I finished a half marathon a number of weeks ago in 1:35:52 at a couple of hundred feet higher than Seattle (trust me, it makes a difference, I know after so many long runs at Tahoe this fall), the ever handy McMillan pace calculator tells me I'm on track (with proper training of course… check…) to run a 3:21:45. That seems nuts, given that my first (and only) marathon was a 3:55:00,  shaving a full half hour 3.5 years later just seems like too much. That said, I recently read an article about marathoning urging a participant set three goals, more or less (or as I'll state them) as follows: excellent: 3:25:00, solid: 3:30:00, and disappointing, which I'll set as anything slower than a 3:40:00.
I've have solid races all summer and fall, and have definitely put in the hours and miles for the past couple of months leading up to next Sunday's race.
Outliers
The things I'm going to try not to stress about over the next week:
It could be cold: I'm just fine racing at 45 – 55 degrees, but below that… could slow me down… and make layering a little more complicated.
It could be windy: wide open course, including an out an back on the I-90 bridge over Lake Washington.
Rain: Yeah, this is the big one. I've certainly run in rain, and in some cold rain to sleet miserable conditions (like that training run last month in Bend where I thought I was headed for hypothermia)… but racing 26.2 in a downpour? Needless to say, all eyes are on the long-term forecast for Seattle (currently showing 40% chance showers, high 47, 8 mph winds.)
Anything else that could go wrong… (antidote: plan, plan, plan.)
Map